Prayer Request and 3 Reasons We're Thankful
Do you ever have trouble being thankful? 
Thanksgiving is just around the corner and we've been thinking a lot about all the reasons we have to be grateful. God has been gracious to us in so many ways these past few months.
But it's not always easy to stay thankful – is it?
When we were in college, one of our professors introduced us to the idea of a "Joshua 4 book". In Joshua 3, the people of Israel finally, after years of wandering in the wilderness, crossed the Jordan river into the promised land. Immediately after they crossed, Joshua commanded that 12 stones be taken from the river and set up on the other side as a reminder to the people of all God had done for them. So a "Joshua 4 Book" is a way for us to record when the Lord blesses in unexpected ways.
We have been blown away at the ways the Lord is working as we build our support team. Blown away.
Record What God is Doing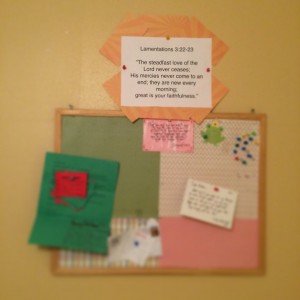 We've been telling ourselves that we need to document this some way. So recently Becca put up a bulletin board in our study where we've tacked up things that remind us of special ways the Lord has blessed us. It is so encouraging to stand in front of that board and remember "Oh yeah – remember when He did that?! That was so cool!"
How has the Lord blessed you in the past month? If you're struggling with reasons to be thankful, you might want to give this a try.
Need something simpler? Here's another method using your 10 fingers that I picked up from a great pastor in California: How to Be More Thankful – A Simple Formula to Follow
3 Things We're Grateful For
As we look at the past couple months, here are some of the things we are thankful for:
Travel:
Since our last newsletter, I have driven over 1,300 miles, taken 20 flights and slept in 4 time zones. Through all of that, this was one of the smoothest travel seasons yet. 
Along the way, I met loads of great people who are preparing to begin their studies at DTS, connected with several friends and have been able to share about what we'll be doing in Haiti.
Support:
We are so thankful to to see our monthly support grow to 40%! In addition to this, we've now raised over 52% of our one-time expenses budget! It is so exciting to see the Lord adding new people to the team.
Encouragement:
We asked you to pray for this and God has provided in wonderful ways. So much so that we set up a bulletin board to remind us! Thank you for praying!
A Request for Prayer
All In:
We're moving closer to the point where we will leave Dallas, leave the security of a full-time income and move to full-time support raising. Our mission will allow us to draw a stipend from our support once we reach 75%. However, the quicker we can go all in and do this full-time, the quicker we'll get that support raised. 
So, we're thinking we may make the leap earlier than 75%. This may mean that we go for some time with no income. We have some savings, but that will only carry us so far.
As you may imagine, this will be a big leap of faith. The question is: when do we make the jump?
Would you pray about this with us? We want to be sensitive to the Lord's timing, while also keeping ourselves in a place where we are aware of our need to trust him.
Do you have a special way to remember the special ways the Lord blesses you? Let us know in the comments, we'd love to know about it!