How do you get to know someone you have nothing in common with?
We've all been there. You're at a banquet and you're seated next to someone who is the polar opposite from you. As you wait for the event to begin, you're faced with a decision: Do I sit here in awkward silence and stare at the empty podium? Or, do I initiate conversation? Assuming you decide to initiate a conversation, where do you start?
You may introduce yourself. You may ask some questions about what they do, or where they are from. As you do this, before you know it, a picture begins to develop of who they are. The further you go, points of commonality begin to emerge and suddenly that person moves from being a stranger to an acquaintance. The longer you stick with it – the greater the chance that person may even become a friend.
We've just completed our first week here at Pre-Field Orientation (PFO) where we've been exploring issues related to culture, worldview and how to understand, communicate and build bridges with people from cultures that are vastly different than our own.
This video is one we watched early in the week to introduce the subject:
Haitian culture has some significant differences from the culture here in the United States. Our training over the past week has helped us see what some of the impact of those differences can be as we go about the work of making disciples.
Part of the training this week has involved us going out to various parts of Kansas City where we can put our new skills to work in observing various parts of the culture that is unique to this city. We've been to a town square, a horse show (where we actually saw William Shatner showing horses he owns) and a train station. It's fascinating to see what you can observe about a culture when you're intentionally looking.
We've been given some great tools over this past week that will enable us to continue growing in our understanding of Haitian culture. Tools that will ultimately help us connect with our Haitian brothers and sisters at deeper and deeper levels.
On the trip to Kansas City the week before, we had a great time together driving a little over 1,500 miles over three days. The kids did great, the van ran perfectly and we had very little traffic.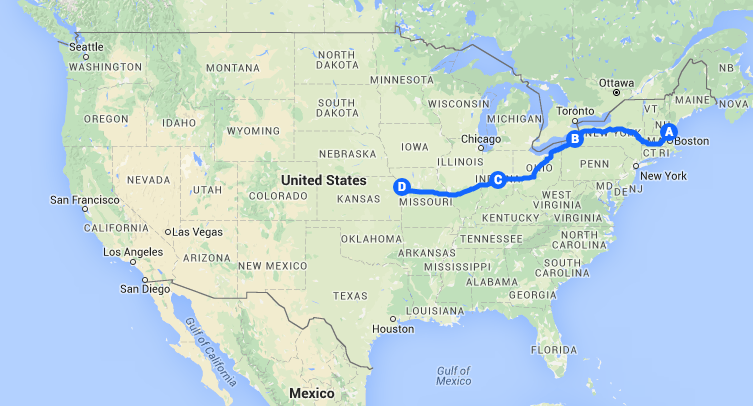 A week ago this past Wednesday, we headed west across western Massachusetts and into upstate New York. We had only been in that part of the country once before and we were surprised to see how beautiful it is. Our goal on that first day was to make it past Buffalo and we pulled off the road in Dunkirk, New York around 7:30pm.
Early the next morning, we started out again, aiming to make it to Indianapolis in time to grab some dinner with friends there. After a smooth day of driving with some great views of Lake Erie along the way, we eventually pulled into Indy just after 3pm.
We had a great visit with Joey, Jenna and Analie Woestman there. Joey and Jenna were great friends during our early seminary days and we hadn't all been together in over five years. We had a great time letting the kids play at Chic-fil-a and then swim together back at the hotel pool.
The next morning, we began the final trek to Kansas City – leaving Indiana, crossing through Illinois, passing the arch in St. Louis as we crossed into Missouri and finally arriving in KC around 4:30pm on Friday.
For our first night in KC, we stayed with great friends Pastor Mark and Michelle McCune. Mark pastors Cornerstone Community Church in Harrisonville, MO, one of the first churches to join our support team. We had a great time with Mark and Michelle – we stayed up until after midnight laughing and catching up!
On Sunday morning we got to hear Mark preach and connected with friends at Cornerstone. Somehow I managed to lock our keys in the car as we were walking into the service – I guess I like to keep things interesting! Just as the service was ending, the tow truck arrived to open the door for us and we were able to leave in time to have a great lunch with fiends from the church.
Here at the Crossworld headquarters in Kansas City, we've had a wonderful time connecting with co-workers from across the country and with appointees who are heading all over the world.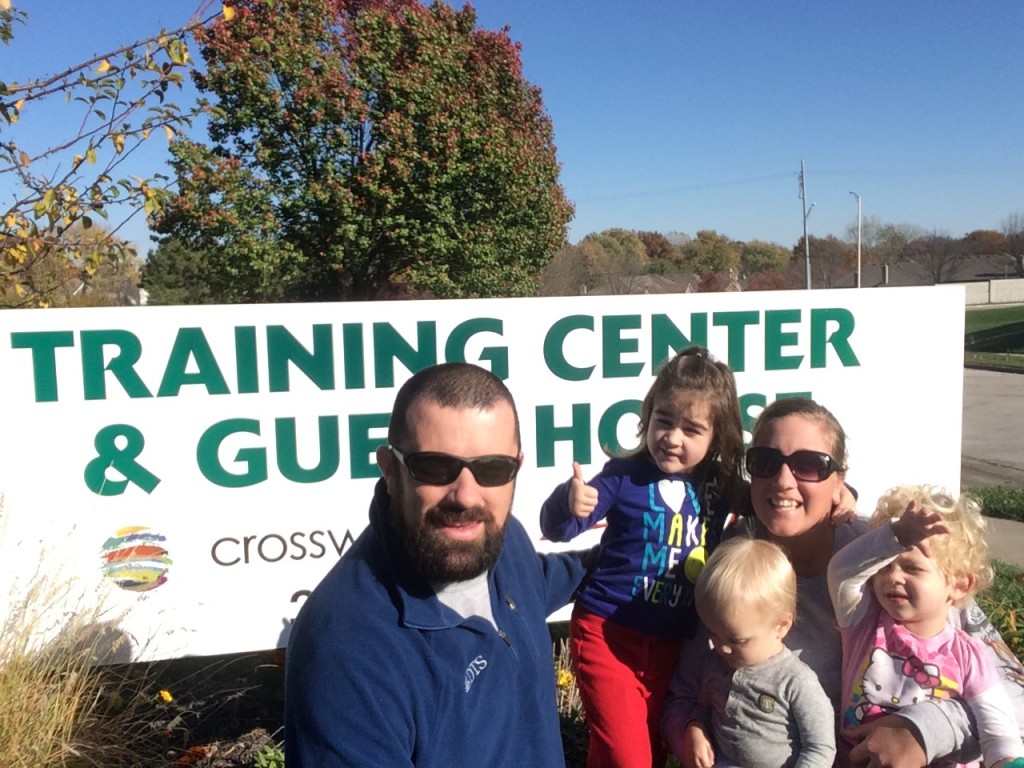 It's been a special treat for us to connect with a couple from Indiana who is also preparing to go to Haiti around the same time as us. They will be working in the northwestern part of the country with some Crossworld missionaries who are working to provide clean water to that rural community. You can learn more about the work they are joining here: http://odrino.com/
Thank you, thank you, thank you for your prayers for us as we were traveling and while we've been going through this training. We are so grateful the Lord has provided such a great support team for us!