When you love someone, you look for ways to express it.
In the same way, nothing quite beats the feeling ofbeing loved by someone else, right?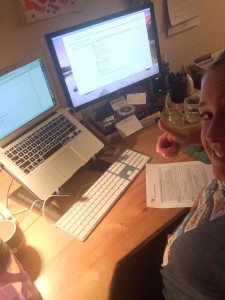 Last week, Becca and I were in our office working on our language class when I said something like "Man this is getting cluttered – I'd better straighten this up tomorrow so we can focus better." The next morning when I went down with my cup of coffee – it was already done! The clutter was gone and there was a note on my desk saying "I love you – you're gonna rock it today." Becca is always finding little ways to express her love – and when she does it, I feel like a million bucks.
Love is a powerful thing.
Last week we finished up our second language acquisition course with Wheaton College. It wasn't a course on Creole or French, but a course teaching us how to work on mastering a language when we arrive on the field. We studied everything from phonetics to sociolinguistic competence to conversational gambits. Who knew so much went into learning a language? We didn't even know what some of those words meant a couple months ago!
One of the first things we will do to show the love of Christ to the people we serve in Haiti will be to work to master their language. This involves more than just memorizing vocabulary words and grammar rules, it means getting to the point where we can freely use their language as close to the way they use it as we can. Thankfully we have a head start on this – but we still have a way to go and it's going to take a lot of work.
But we'll get there. When we do, it's going to be worth it. You know why? Because something unique happens when a foreigner speaks to a Haitian using the language of their heart. I've seen it in their face time and time again. They feel valued. They feel loved. And love is a powerful thing.
Family Update
2016 got off to a bit of a difficult start for us. In January, Becca's mom was unexpectedly diagnosed with a brain cancer so we traveled to North Carolina to help her parents put a treatment plan together. We're grateful to report that she is feeling much better. She is continuing a course of radiation treatment and at this point is expected to do well. You can read our initial post about this here.
This past week, our friend Stephanie Richfield passed away after a five-year battle with cancer. Stephanie was a faithful supporter and cheerleader for our ministry. Over this past year, Grace and Lydia developed a special relationship with Stef and this loss has hit all of us pretty hard. We appreciate your prayers for her family. She leaves behind a husband and two sons – one of whom is just 11 years old.
Haiti Timeline Update
Over the next several weeks, we'll be working hard to finish raising the last little bit of our support while also beginning to pack our things to be shipped to Haiti.
I'm in Dallas this weekend and part of next week, meeting with potential supporters. We'll be continuing this over the following weeks in New England, too. We appreciate your prayers as we work now to cross the finish line so we can leave the US.
How Can You Pray This Month?
Pray for Becca's mom as she continues radiation for lesions on her shoulder and sternum.
Pray for the Richfield family as they grieve the loss of Stef.
Continue praying for the political situation in Haiti. To date, they have not yet been able to hold a successful election for a new President. Pray for calm in the streets as this situation continues to develop.
Thanks for standing with us. We're so humbled to be able to partner in this ministry with you!
We love you all!
Special Note
Crossworld requires us to have pledges covering 100% of our monthly support budget before we can leave for the field.
If we add another 10 new partners over the next couple of weeks, we will be very close to finishing this up – if not already there!
Could you be one of the ones that pulls us over the finish line?
Visit www.crossworld.org/give if you are interested! (our account number is 40194)
If you have questions, just reply to this email – or visit perkinsinhaiti.com/give for more info.